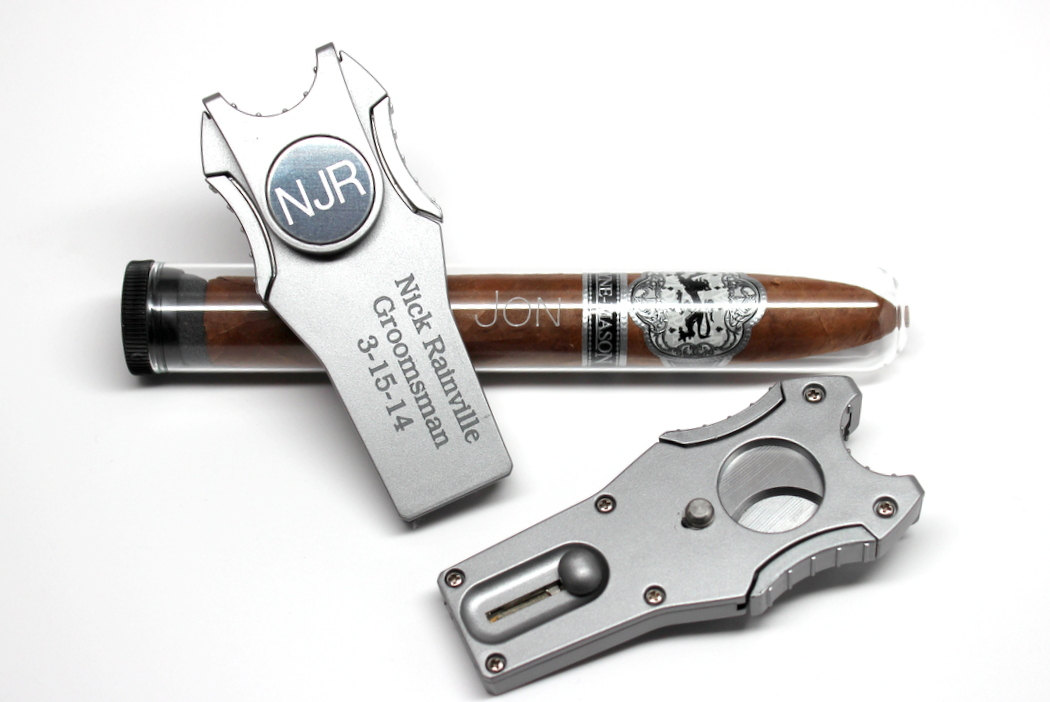 Trash
sold out
Cigar Cutter and Glass Cigar Tube- Set of 1 Gentleman's Vice Tool and 1 Cigar Case - Personalized Groomsmen Gift, Wedding, For Him
Two of our most popular items together at last! This gift set features a elegant glass cigar tube along with a Gentleman's Vice multi-tool cigar cutter.

Engraving Options:

Choose the engraving option that you like the best...

Ball Marker: The ball marker can be diamond engraved with initials, monogram or names. Keep in mind, the area available is 7/8ths of an inch in diameter.

Handle: The handle of the GV can also be diamond engraved with full names, dates, logos or quotes.

Glass Cigar Tube: One line of text of your choice diamond engraved on the glass cigar tube.

Ball Marker + Handle: Both areas of the GV are diamond engraved with text of your choosing.

Ball Marker + Glass: The ball marker and Glass cigar tube will be diamond engraved with text of your choosing.

Handle + Glass: Bot the handle of the GV and glass cigar tube will be engraved.

All 3 Areas!: If you'd like all three areas engraved choose this option!

**** Leave the engraving instructions in the "notes to seller" section at check out ****



About the GV:

The "GV" is a 5 in 1 golf gadget designed to give resourceful golfers the only item they'll need on the course.

It really makes a unique groomsmen gift for weddings as well as an eye catching promotional product for corporate or charity golf tournaments.

It is available in a couple different materials and several colors.

This listing is for the sporty, super lightweight polycarbonate/ABS blend.

Color: Silver

The 5 functions include:

1. Retractable Divot Repair Tool
2. Guillotine Style Cigar Cutter
3. Magnetic Ball Marker
4. Cigar Rest
5. Club Prop

About the Glass Cigar Tube:

This glass cigar case is the most elegant way to present a single cigar as a gift. Ideal for weddings and special occasions.

Diameter of the case: 24mm

Length: 165mm / 6.5 inches

Ring gauge: 44 thru 52



*No cigar is included. This is for the glass encasement only.