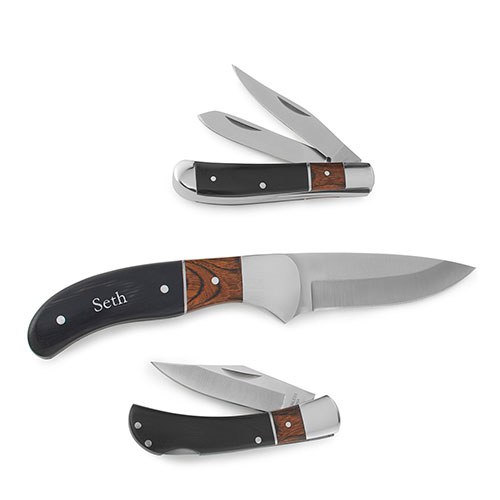 Imported Products
sold out
Wood Inlay Knife Set
Our elegant wood inlay knife set is an exquisite gift to give to any member of your bridal or groomsman's party. The lovely set comes with three practical knives that can be used for different purposes. The large knife measures 7 3/4" (doesn't close), and can be used to cut everything from hard cheeses on a picnic to tough fishing line. The two smaller knives fold. One measures 6 1/4" when open and features two blades (each blade measures 2 3/4"). The first blade is very pointy and the second has a more rounded tip. The second smaller folding knife features a single strong blade that you simply have to pull open and push closed. It measures 6" when open, and its blade measures 2 3/4". Each knife has a lovely black wooden inlayed handle and the large knife can be personalized. The set comes ready to give in an elegant black gift box.

•Large Knife 7 3/4" (L); Small Knives 6 1/4" (L) open and 6" (L) open
•Wood, metal




Engraving Option:

Add up to 6 characters on the handle of the large knife in this set (the other 2 knives can't be personalized). Ideal for initials, names or an important Date.


Ordering Instructions:

1. Choose quantity and engraving option.
2. Leave engraving instructions in the pop up box that appears once an engraving option is selected.
3. Pay with credit card or PayPal!

Production Note:

Standard processing time is 1 to 2 weeks. If you need your order rushed and shipped sooner than that, please inquire to sales@epicgiftsformen.com about rush processing prior to purchase. Include shipping destination zip code and the date you need the order in hand by. We will get back to you as soon as I find out if this option is available for you.